Get Ready! Set! Transport Sodium Carbonate!
BULK FLOW now offers the new Tiltless Liner especially designed to carry low-density and high-density cohesive bulk-solids like sodium carbonate in standard 20' DV containers. The Tiltless Liner, along with the Tiltless Unloading Hopper, enable horizontal unloading thus preventing any dangers and additional costs emerging from using gravity-tilt unloading systems.
Since sodium carbonate (soda ash) production is expected to rise through 2023, according to a recent global industry report on Transparent Market Research, the Tiltless Liner couldn't have entered the industry at a better time.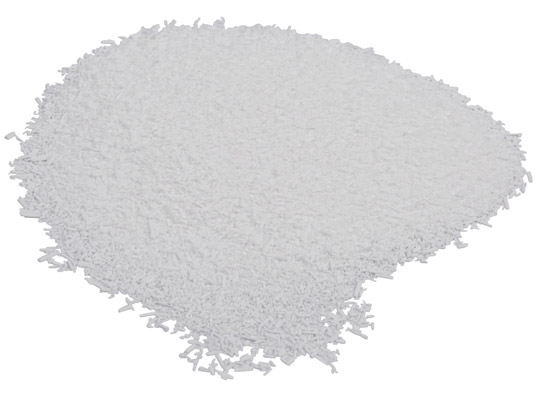 Consider the industrial and commercial uses of soda ash in water treatment, glass production, and detergents, among others. The greater demand for soda ash is forecasted to come from emerging economies in Asia Pacific like China, India, Indonesia, and others as the construction and automotive consumers grow and the higher supply of detergents must be satisfied. Nonetheless, soda ash demand in other parts of the globe, including Europe and the Americas, will trail closely behind with the same industries driving the growth.
Are you ready to handle this chemical, sodium carbonate, safely and in less time from origin to destination? Here's is a quick guide to optimize and control the entire process:
Package and safely load sodium carbonate
The Tiltless Liner has been developed, tested and proven to work well with highly cohesive bulk solids. It's versatility for use in the handling of such commodities makes it an effective solution across the board for a variety of shippers. A common packaging solution for sodium carbonate tends to be LDPE bags shrink wrapped on pallets and FIBCs.
But by using the Tiltless Liner, customers drastically reduce air/particle ratios, thus maximizing cargo space. Also, the mechanical loading process provides a dust-free experience that promotes a safer work environment.
Watch this video to see Tiltless Liner System in action!
Transport sodium carbonate in a flexible liner
The Tiltless Liner's multi-layered polyethylene film protects the sodium carbonate load while in transit in a marine container because the liner is extruded in one piece which protects the cargo from humidity and marine condensation. None of the contents in the Tiltless Liner will be considered a loss as it makes it from the sender to the receiver. This not only saves money but makes money as the payload arrives intact and is a complete, usable load.
Protect sodium carbonate from condensation and cross-contamination
As mentioned before, the Tiltless Liner provides an air-tight space for soda ash that locks out all humidity and prevents condensation that can damage parts of the load. This same feature also prevents foreign particles from the marine container or other environmental agents from gaining contact with the sodium carbonate stored within the liner. As a result, there is no need to transfer the liner's contents out of it while awaiting the next step in the logistic process or final client use. The Tiltless Liner transforms the container into a silo which, in turn, provides another storage option to clients for additional cost savings per ton.
Carefully unload sodium carbonate while you save time and money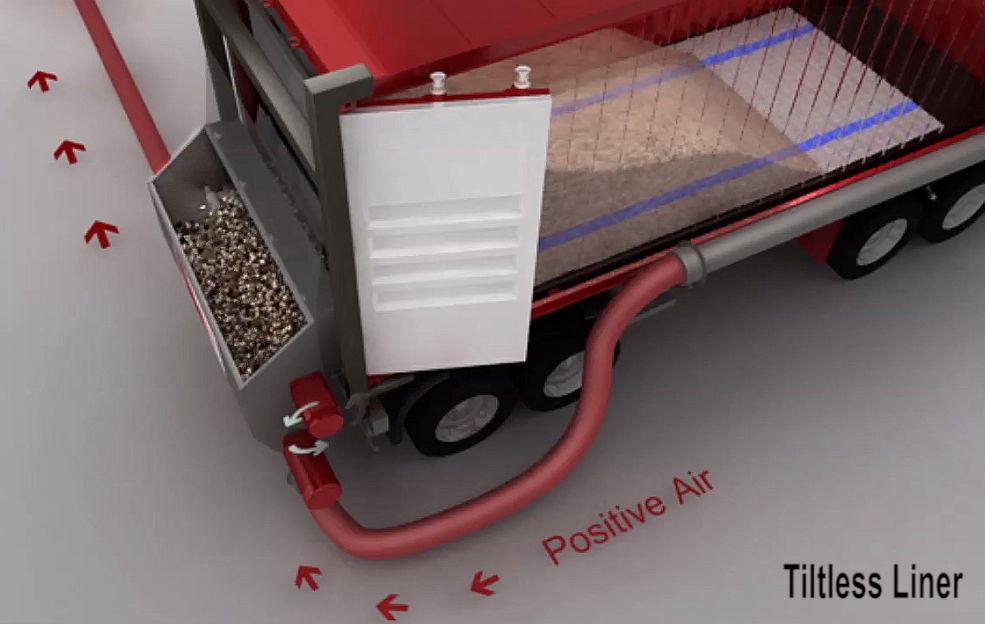 The bottom of the Tilt-Less Liner has a built-in, patented floating floor system with a discharge frame that progressively unloads the product from the container. This eliminates another line item from your expense list – renting a tilting truck to unload the sodium carbonate. The Tiltless Liner System allows a mechanical unloading process to take place while the container remains in its conventional horizontal position. Whether the product needs to go into a silo for storage or directly onto the production line, the product will come out of the liner without compaction, tunneling, bridging or any of the other common issues present while handling highly cohesive bulk solids.
Bulk Flow's Tiltless Liner also includes a customized PLC internal control system (hardware and software) to track all processes and even control and quantify the unloading speed of your sodium carbonate cargo. Our technical team will set up this user-friendly system with graphic representations and high-efficiency process automation, as well as provide training and support for your team to operate, at no additional cost.
There is no better time than this to improve your sodium carbonate handling processes.