Are Big Bags being retired?
Just think about how does your supply chain handles (packs or receives packed) the bulk packaging of bulk solids used in your processes?
First, a little bit of history
In the past, more than 40 years ago, if your company was not a huge user of those bulk solids and was not situated by a port, there was no other answer than: "in a bulk tanker truck".
The bulk bags or big bags or FIBC were created between the late 1950's and early 1960's, probably in Japan (there is a lot of controversy about that), but it was only during the 1970's that it started to have a more spread use for carrying just about any bulk solids, mainly in Europe initially, then in Asia and the Americas.
That was quite an advance then!
As with everything else, the world keeps turning and people keep creating new ways of doing things.
In the U.S., the use of this type of packaging grew up a lot slower than in Europe until the mid 1980's, when, after testing and proving the safety of this method of carrying bulk solids, the DOT (which is the U.S. Department of Transportation) admitted that it was safe to ship most of the hazardous products in big bags, what generated new standards, rules and regulations created to assure the safety of the process.
Back then, in the 1970's, if one was not carrying "not so big" amounts of bulk solids that would justify the use of bulk carrier ships, or between the bulk carrier ships and the point of use of the material, or even for total hauling length of more than 250 Mi, the use of the big bags was then reducing the costs compared to using the bulk tanker trucks and it was quite a great advance.
But, in changing the way the bulk solids were carried also brought new costs, as the ones with the packing systems and labor, the pallets, stuffing the containers and the cost of the bag itself too.
For many years this was the way to do it, the way to reduce costs and make the supply chains more efficient.
The Step ahead
Then, as I said, humans are always evolving, creating new ways of doing things in a better, more efficient way, by the time the use of big bags (or FIBC if you prefer) was ramping up, someone was creating a new way, a lot more efficient of carrying bulk solids materials into metallic ISO containers. By late 1970's early 1980's someone was creating the Bulk Liners. There is so much controversy about who the creator is and when was it created, as there is about who made the first airplane, which, by the way, the French and the Brazilians claim it was Santos Dummont but the Americans it was the Wright Brothers, and for the "Soviet Union" it was Alexander Mozhaysky.
So, controversies apart, as everything new, it takes some time for something to become more used and more usable, so during the first decade or so, the uses of the container bulk liners were tested with several different loading, unloading and handling services in order to reduce its cost and transform it in a much better way of transporting bulk solids materials than the big bags for a multitude of uses.
The container liner bags were then created to be adaptable to a multitude of loading and unloading methods such as:
PNEUMATIC LOADING
ROTARY VALVE UNLOADING
BELT CONVEYOR LOADING
REVERSE TILT LOADING
GRAVITY LOADING
SCREW CONVEYOR LOADING
FLUIDIZING LINER SYSTEM FOR HARD-TO-FLOW LOADING / UNLOADING IMPROVEMENTS
RECEIVING HOPPER UNLOADING
DUMP STATION UNLOADING
VACUUM UNLOADING
Plus, also there is the NEWEST unloading method just released by Bulk-Flow, the "Tilt-Less Liner" unloading(as us for details).
Both methods can handle the hard-to-flow bulk solids, but the bulk liners can do it with a lot less labor and risks.
What it means?
Here are some pictographic representations of the most common efficient loading methods, that can't be used with big bags:
Low Velocity Pneumatic Loading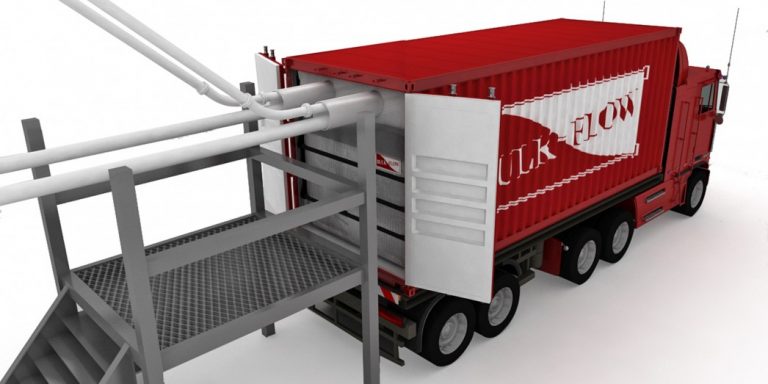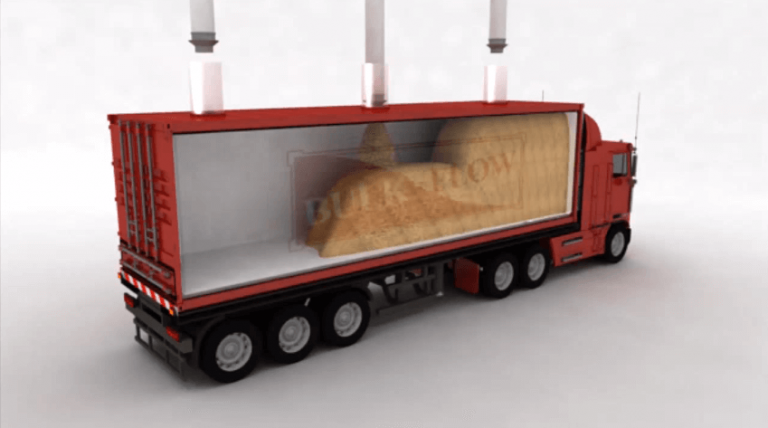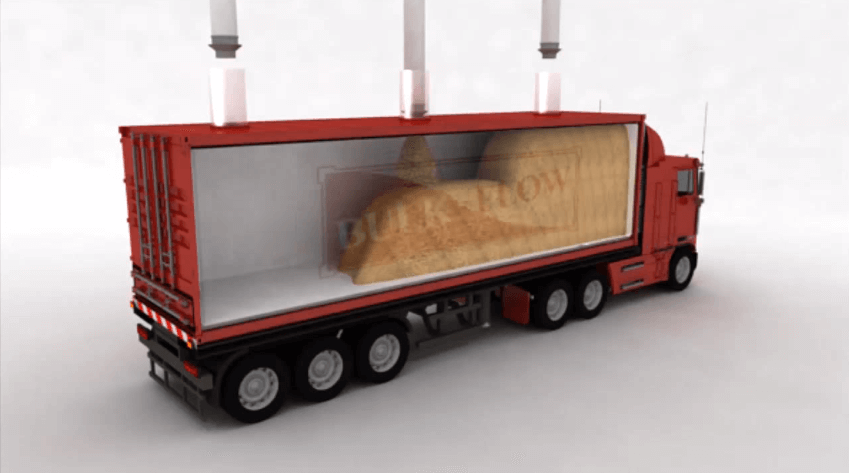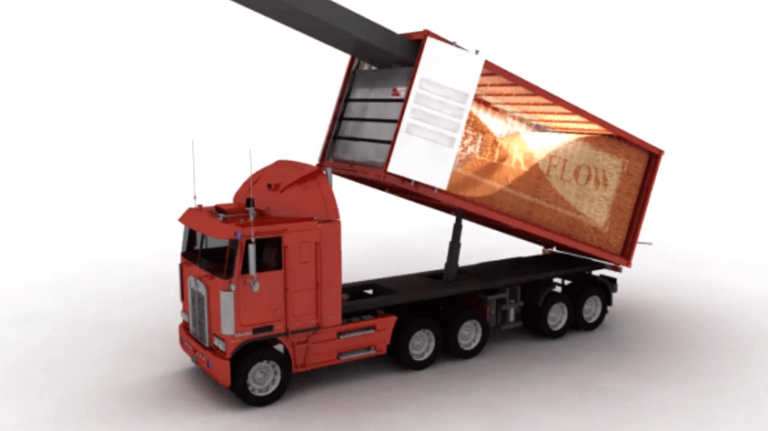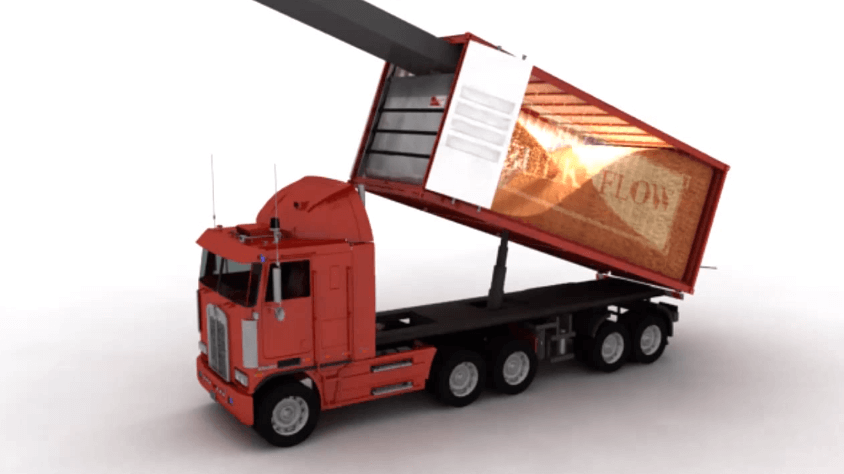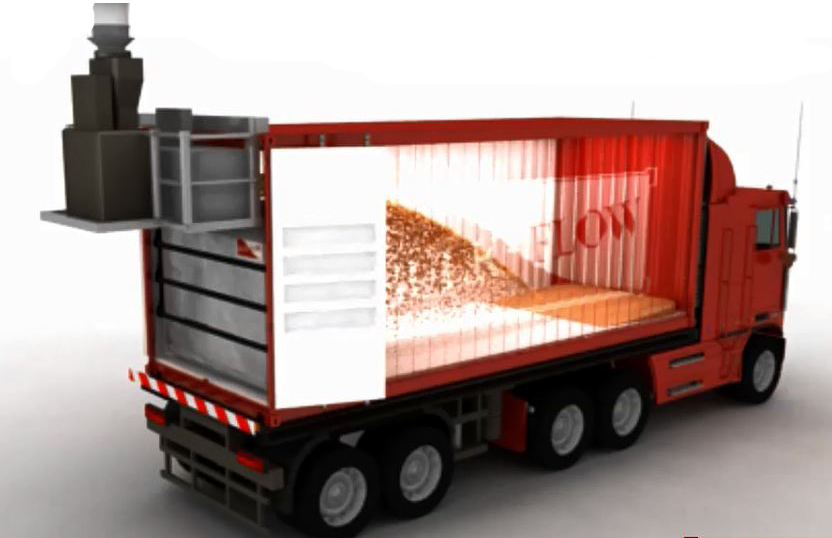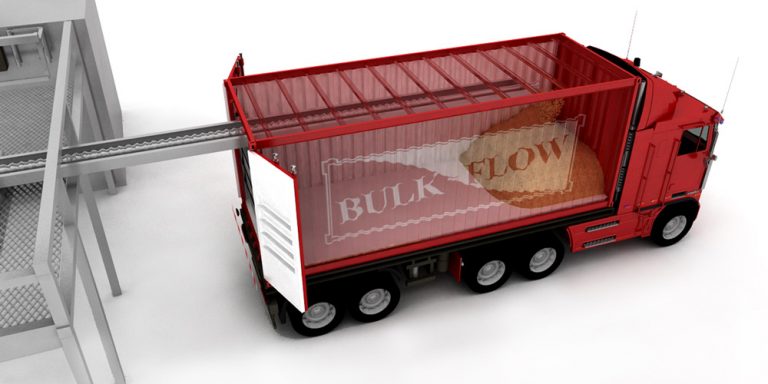 The first reason for retiring the big bags is merely economic, which is also derived from the other reasons as loading and unloading methods, labor hours, etc.
A simple cost comparison between the various ways of transporting bulk solids shows us that while transporting some products in big bags may cost only in pallet plus package (the big bag itself) approximately US$ 18.00 per MT, using container liner bags costs about US$ 7.50 for the same product, bringing a US$ 10.50 savings per MT upfront.
Then comes the efficient occupation of the container. While you can't put more than 26 MT on 20 ft container for some products (as Calcium Hydroxide, Portland Cement and others), mostly limited by road and shipping regulations, it is not possible to go over 22 MT per container with big bags, limited by geometry.
What are the advantages though?
Below we can see some of the advantages of using bulk liner:
Saves $10.50 per MT in packaging compared to Big Bags
Higher productivity due to higher automation
Less product waste
Less product contamination
A silo is three times more economical than a bagging line
No need for a warehouse
Easier inventory control
Liner installation time is 8-10 minutes
U.S. FDA approved for food handling
More payload per trip
Uses standard ISO containers
At the end, it is all regarding cost reduction, isn't it?
Then the question is:
Why keep doing things the way they were always done?
Why not improving your methods and making the best of it?
Why changing the packaging from big bags to Bulk Liners?
You may not have the answer, you may not have the numbers, but we do.
As us for help! We at Bulk-Flow will be pleased to help you move from your old bulk solids carrying methods to the new ones. We will be pleased to help you improve your logistics process methods and create a much more efficient Supply Chain, generating profits to your company.