In most chemical plants that make granulated products or process minerals, in mining fields, sewage plants, food processing and pharmaceutical plants, there are almost always hard-to-flow bulk solids (or powders) because they must handle some types of products with cohesive, high moisture content, and deformed particles (i.e.: fibrous materials).
Some of the places mentioned above need to move their products into or out of containers.
The bulk handling equipment (conveyor system, silos, hoppers, throwers, feeders, belts, and screws) needs to be correctly designed and the loading process well planned or the plant and handling processes will operate at a lower-than- designed capacity with higher-than-planned loading times and become a bottleneck for the logistics managing group.
Prevent these problems
ISO containers with container liner bags are used to carry bulk solids of all kinds.
It is very important in the logistics business to maximize the use of available resources. Therefore, focus on selecting the most efficient loading method to save time and optimize load space for order fulfillment.
Bulk-Flow has the best liner design solutions for hard-to-flow products loading into containers, it also offers solutions with state of the art fluidizing liners and loading equipment, as well as professional assessment to help its customer base decide the best loading methods.
First, choose the loading method – consider the loading time, investment, labor, etc. To help support the decision, here are some short descriptions:
Most common loading processes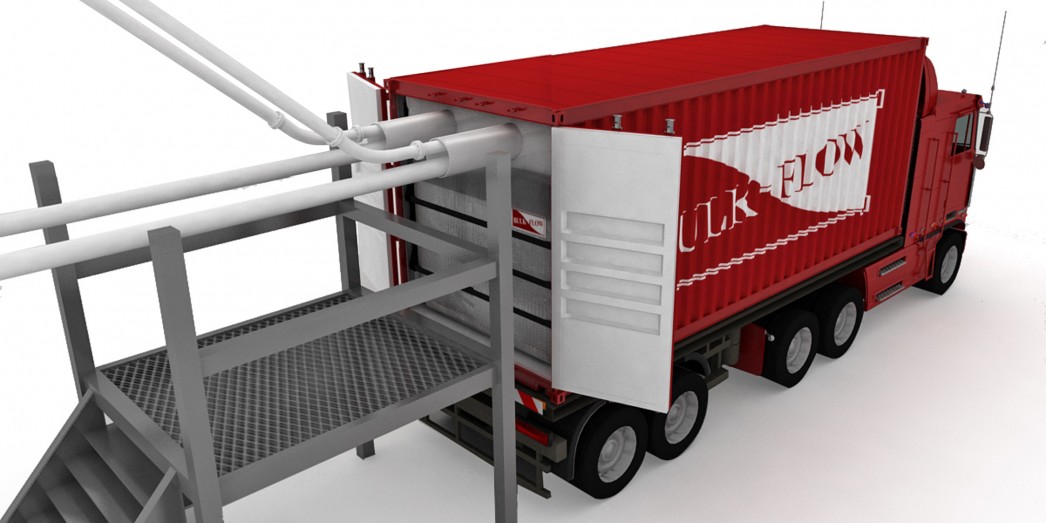 Ideal to be installed under silos with low clearance.
Best fit for pellets, granules and powders that require maximum cleanliness.
High efficiency in container volume usage for easy-to-flow bulk solids.
Dilute phase (low pressure/high velocity) or dense phase (high pressure/low velocity) can be used, but it has to be carefully chosen for each product.
Needs an operator to maximize the container load distribution for the hard-to-flow bulk solids.
The slow movement inside the pneumatic conveyor system could result in temporary blockages when used for hard-to-flow bulk solids, causing cyclic spitting of product that could make it difficult to direct it to the right place.
Improve this method significantly with one of Bulk-Flow's solutions:
Use Bulk Flow's fluidizing liners to improve container usage and reduce filling time, labor costs, and error margins.
The fluidizing liners help improve the products' distribution inside the container and reduces the time it takes to fill it up.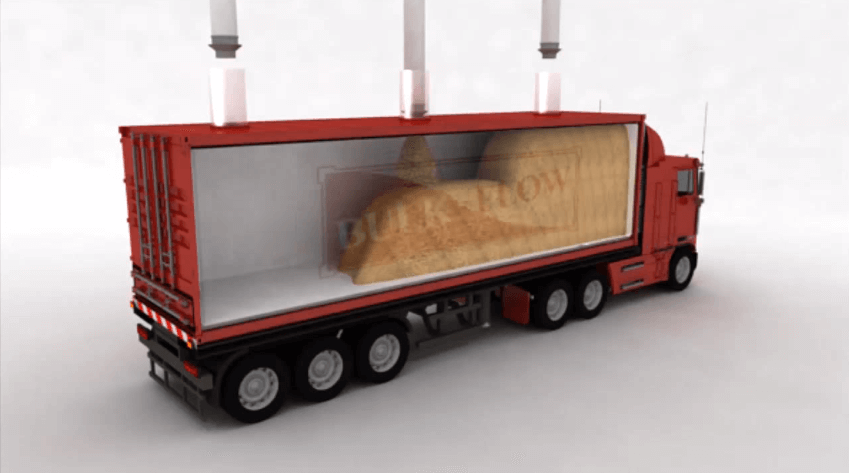 This is one of the most utilized methods for loading hard-to-flow bulk solids, but must ensure the following:
The containers will have to be ISO modified with at least 3 top hatches for good distribution.
The system must have pressure release valves with dust filters, sometimes with cyclones, for dust recovery.
There is some risk of liner bag rupture in automatic operations.
How to reduce filling time and improve container capacity
Bulk-Flow has liner solutions that help in the loading operation. Some of these solutions are based on liner materials or design, but they could also be based on the introduction of a new component: the fluidizing liner.
By using a fluidizing liner, the distribution of the product inside the container improves, so does the container capacity, with the additional advantage of significantly lower load times that reduce the equipment and labor use, as well.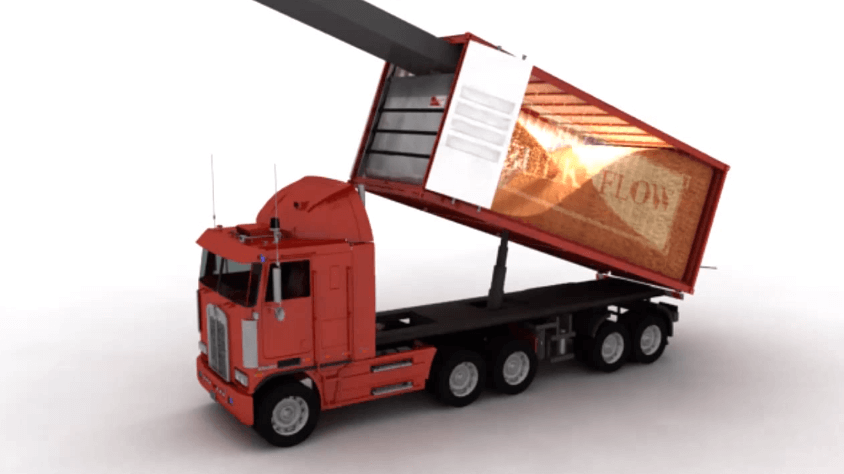 This method is also utilized to load hard-to-flow bulk solids into containers, without disregard to:
The type of product – depending on the solid, it can partially solidify in the front portion of the container, creating the "piston effect" and generating a vacuum strong enough to permanently damage a container.
Loading time – it is only as quick as the silo discharge flow rate.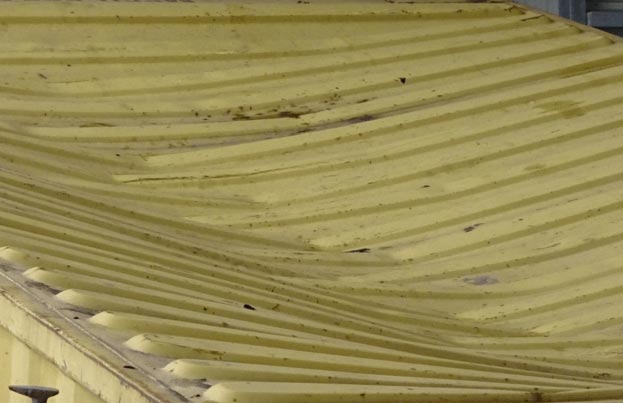 The tilters – these can either be fixed in place or mobile.
Can Bulk-Flow help improve this operation?
As mentioned above, Bulk-Flow offers improvements in this kind of operation by increasing the loading capacity of a container by up to 8% and reducing costs with changes in design and liner materials.
In this case, the fluidizing liner would not help in the same way that it does with other bulk solid loading methods after the product is distributed across the container floor. But it could benefit the unloading operation by preventing the loaded product from settling and becoming a solid load.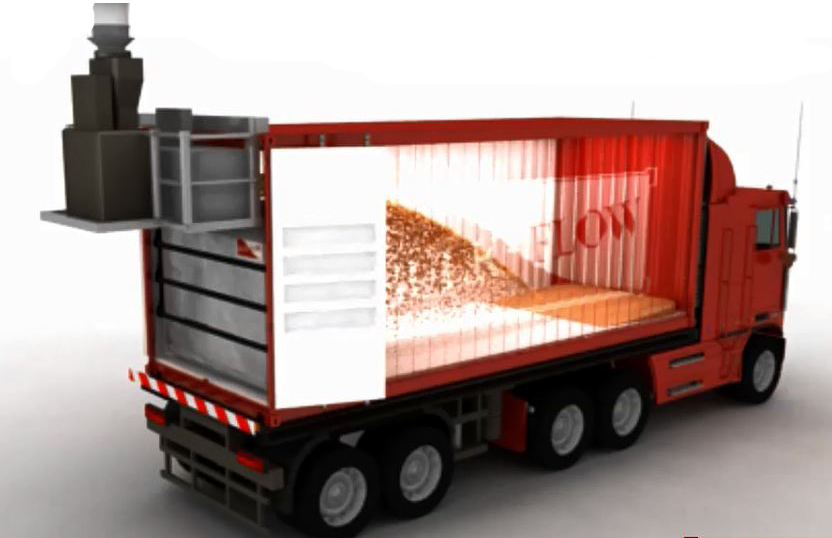 Method used mainly with easy-to-flow products, but can also be used to load some hard-to-flow bulk solids with special design adaptations.
For easy-to-flow bulk solids, it can deliver up to 200 tons/hour – Rapid loading – Quick connection to container. For hard-to-flow, the delivery is a lot less.
Belt throwers are suitable to handle plastic or wood pellets, sugar, coffee or cocoa beans, rice, salt, corn, soy beans, wheat, seeds, and animal feed, and most easy-to-flow bulk solids.
The pneumatic thrower is not suitable for finer particle size products because it can generate dust.
Belt throwers are supplied "READY TO GO."
Both, pneumatic and belt throwers, are well-proven equipment.
Easy operation and cleaning.
Suitable for loading 20′, 30′ and 40′ containers.
Product contact points can be made of many types of materials, including stainless steel.
There are dust-tight designs.
How to process hard-to-flow bulk solids (and powders) with this loading method
For the hard-to-flow bulk solids, this loading method presents difficulties and uses specialized equipment to throw those solids inside the container.
An operator needs to impose some movements and angles during the loading operation, thus working the hard-to-flow bulk solids for a good distribution – this increases labor costs.
BULK-FLOW can help
Bulk-Flow is at the top of the list for innovation for developing and providing the best new materials and design solutions for each individual case for the last 10 years.
Use the fluidizing liner with this method to improve the bulk solids distribution and reduce the total loading time even more to even distribution inside the container.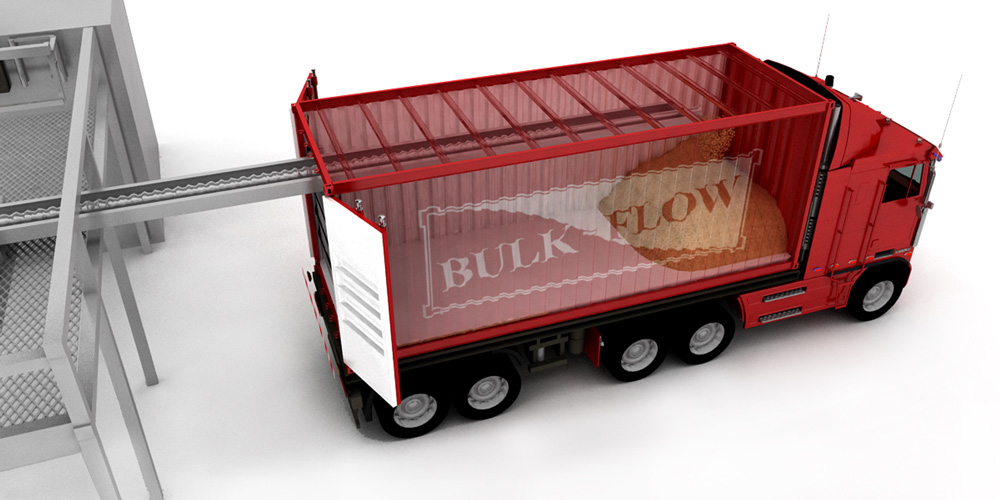 This is one of the most flexible loading methods
Offers good maneuverability, different types of screw conveyors with a great flow rate range, exit speeds, etc.
Includes a conveyor support structure that allows vertical and horizontal adjusting movement.
This method can either bring the product from a larger reservoir or from smaller ones fed either by

mechanized systems from bags (big bags or 50 kg bags),
or from other types of transfers because of the variety of inlet hopper configurations: auger fill, loader fill or belt fill.

Screw conveyors are ideal to load grains or other similar free-flowing commodities into marine containers.
Low-cost investment for the "low-cost" bulk container loading alternative.
Fast setup.
Portable or stationary options.
Can be fitted to 20' or 40' containers.
Variety of loading capacities available ranging from 15 to 25 mins loading time.
Fully enclosed screw conveyor in a tube minimizes dust.
High throughput with twin-screw conveyor configuration.
How can Bulk-Flow help this process?
First, by designing a liner that is more suitable to this process in terms of sleeves and port sizes, fixing points, liner material, etc.
Second, as with all the other processes, using the fluidizing liner to help the distribution reduce the total loading time and labor costs, as well.

Telescopic Conveyor Loading
Capacity to move up to 60 ton/h.
Flexible opration.
The belt conveyor extends its boom into the container liner to place the bulk solids where the operator chooses.
It is normally fed from the silo discharge spout to the telescopic belt conveyor hopper.
The operator needs to move the boom, up/down, left/right, in/out as needed to accomplish full loading of the container liner via remote control.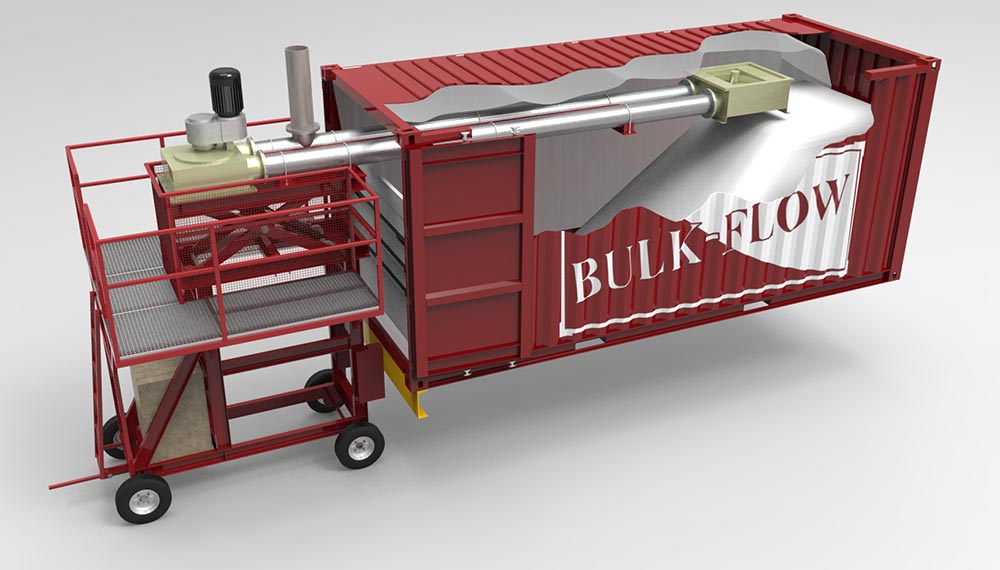 Capacity to move up to 45 ton/h.
Flexible operation (similar to the telescopic belt).
Conveyor boom positioned by a supporting cart that is moved to place the discharge tip.
The operator needs to place the conveyor to distribute the bulk solids inside.
Easy to install and use, low investment, supplied "READY TO GO."
Well-proven equipment.
Quick connection to container.
Easy operation and cleaning.
Suitable for loading 20′ ISO Containers.
Products contact materials in stainless steel.
100% dust tight.
Needs to be fed from a silo or from the conveyor hopper.
The operator needs to move the boom, up/down, left/right, in/out as needed to accomplish full loading of the container.
All loading methods can be improved by using the fluidizing liners:
Fluidizing liners help improve the hard-to-flow bulk solids' distribution during the loading operation.
By favoring an even distribution, using the fluidizing liners help make loading operations faster.
Favoring even distributions reduce the need for labor once the loading operation is faster and the operator does not need to spend too much time on moving the loading system's booms.