Containerized Bulk Solids and Especially Hard-to-Flow Solids is a huge Market
It is key for shippers and logistics operators to understand the role of the different pieces of equipment involved in container liner loading, transport and unloading. Also, they need working knowledge on how to best apply this technology to save costs in packaging, handling and transport.
Bulk-Flow is here to be your strategic partner!
We have compiled this updated list for you all the components used to handle bulk solids with container liners
1. Loading Equipment: Vertical and Horizontal.
Vertical bulk solid loading is the simplest and quickest method to load container liners. Basically, the bulk solid is unloaded from a vertical silo into a specialized bulk unit.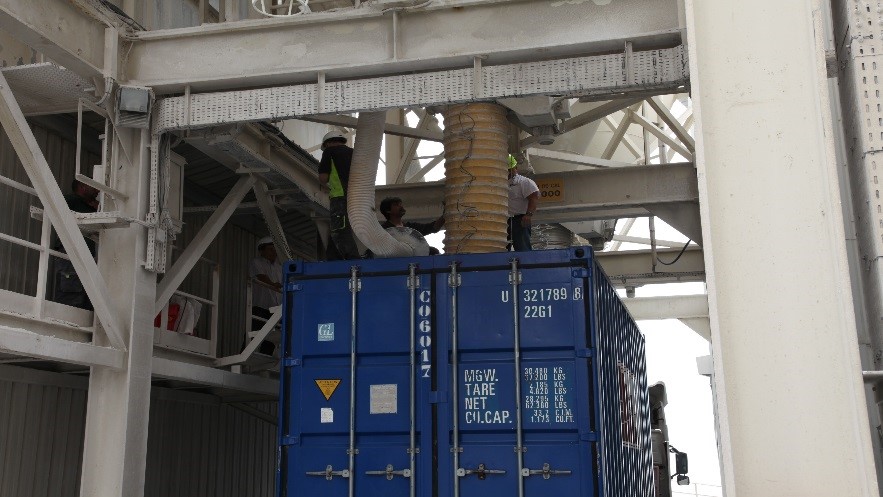 Vertical loading directly from silos is a very quick way to load bulk solids but it drastically reduces the reach of the shipper and his competitiveness because it requires special bulk containers.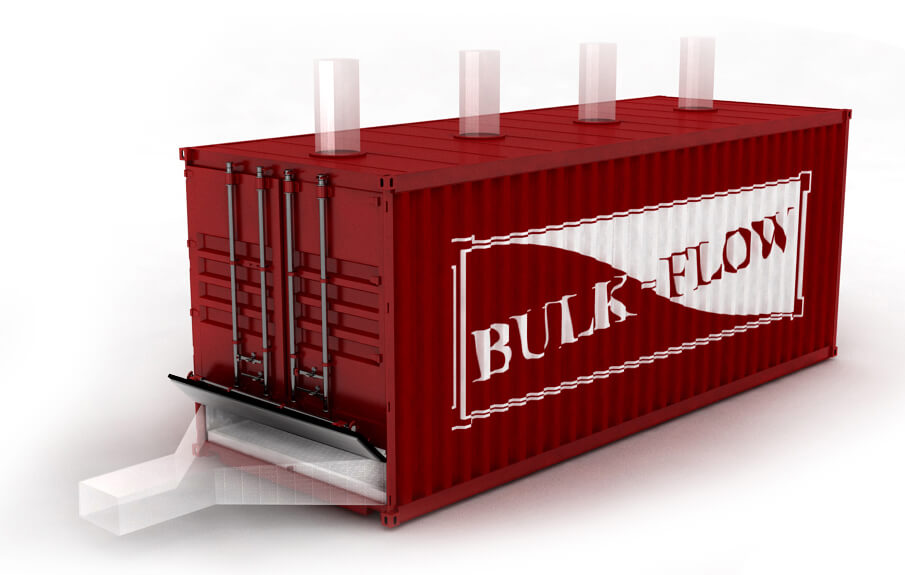 Hence, these bulk containers are not always the most economical way to transport because the container must return (empty) to the origin to reload.
Horizontal loading is usually conducted by connecting the vertical silo to a horizontal loading system.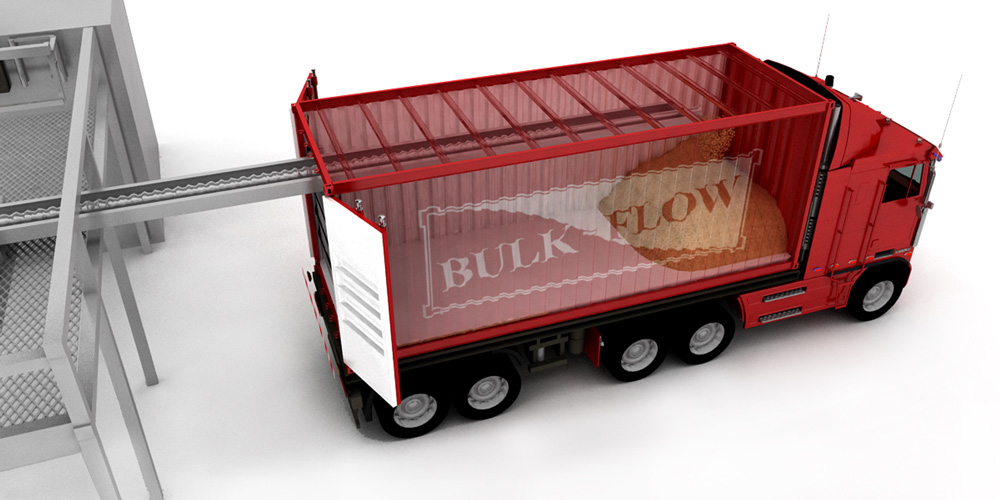 Horizontal loading is generally slower than vertical loading but has a very beneficial characteristic: any standard ISO container can be used; therefore, the export range of the shipper is worldwide and very cost efficient shipping containers can be used.
2. Container Liners
To the uneducated eye, a container liner is basically a big plastic bag that is introduced in a container to be able to load bulk solids.
In reality, there are different types of liners depending on the materials used to make them, the container dimensions, the density of the bulk solid that is loaded or whether the product to be transported is for human consumption or not.
Container liners can be:
Polyethylene liners – film extruded that is a barrier against all kinds of external agents, such as condensation. The film can be food grade and, therefore, adequate for loading food solids intended for human consumption.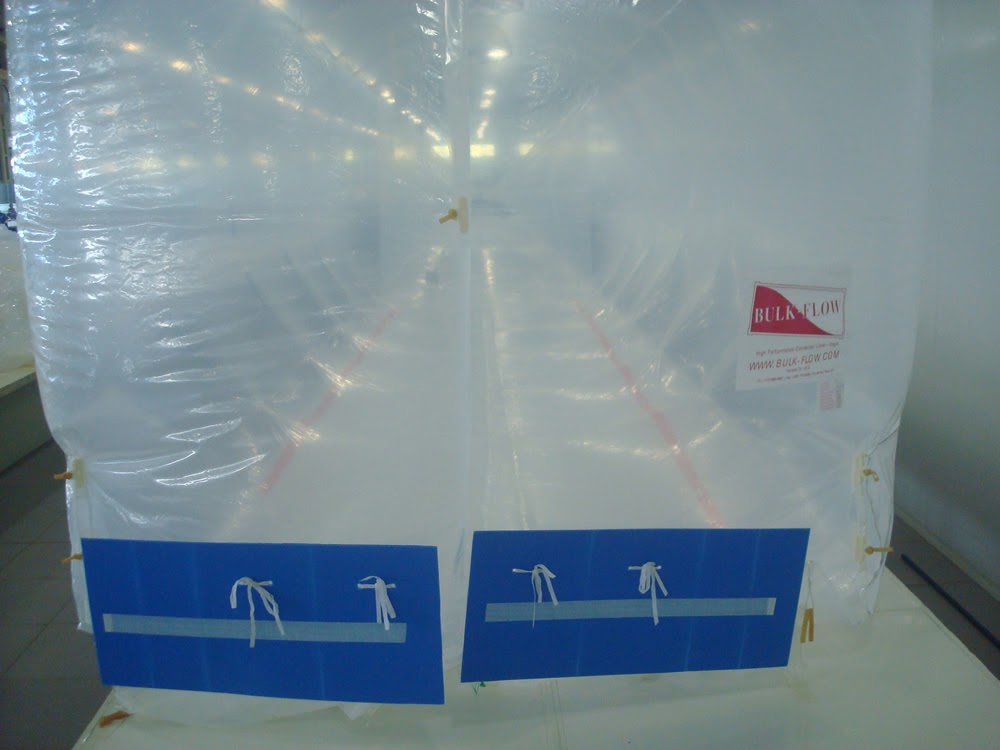 Polypropylene liners or woven liners, as they are sometimes called, are basically made of various strands of polypropylene which are woven/knit together.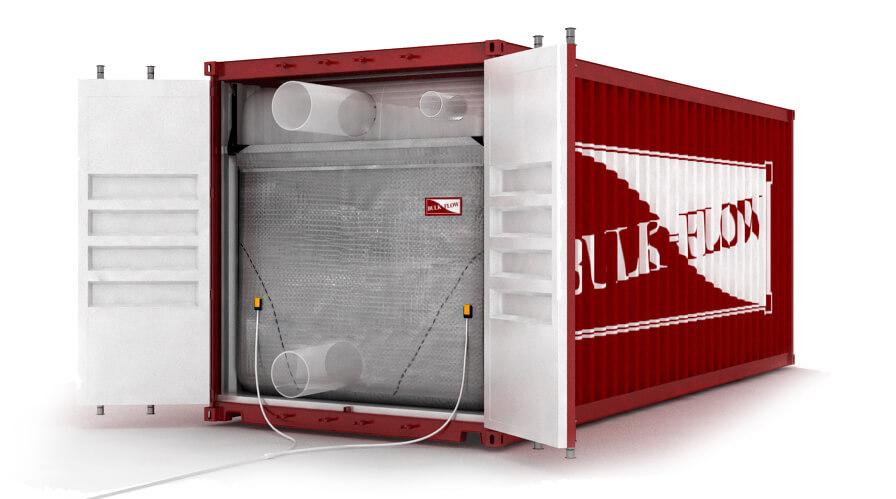 These liners have great mechanical resistance but, as they are woven from independent strands, they are not hermetic and not an ideal solution for food or hygroscopic bulk solids.
Liners can also be categorized by the type of containers that they have been designed to fit. The cubic meter capacity of each container pertains to the density of the product to be loaded to optimize the payload.
Liners can also be designed to transport bulk solids in tautliner trailers as a very flexible way to conduct road transport with bulk solids.
3. Equipment Used to Unload Easy-Flowing Bulk Solids from the Container Liner into the Silo
The process to unload bulk solids from the container liner to the silo or production line involves certain equipment that is standard in many factories.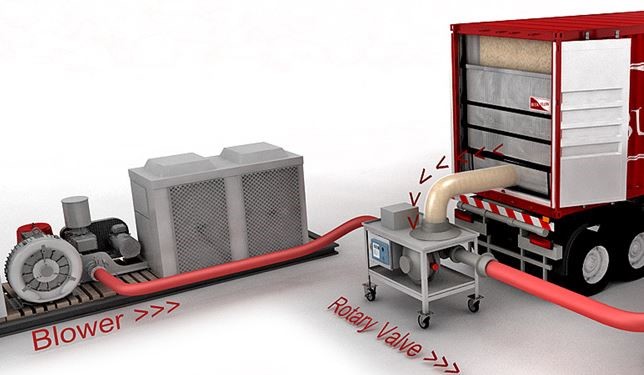 Blower or air compressor: depending on the distance between the container and the silo, and the capacity of the rotary valve, air pressure may vary.
Rotary valve is a device that is designed to discharge bulk solids such as powders, granules, and pellets from hoppers or directly from liner discharging sleeves.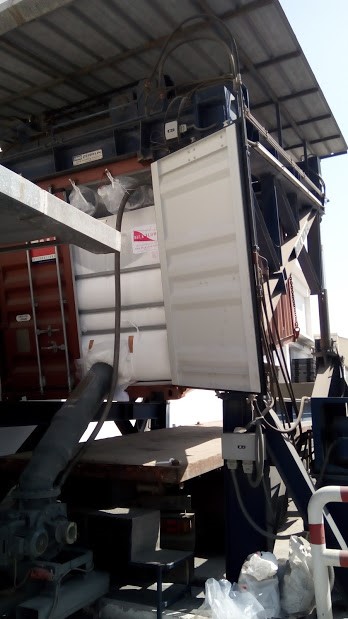 Tilting Equipment which applies gravity to easy flowing bulk solids, is sufficient to unload merchandise that is not cohesive in nature.
There are basically two tilting solutions: Tilting Container Trucks and Stationary Tilting Platforms.
Tilting Container Trucks are common in ports and logistic hubs in Europe, basically for 20' dv containers. Tilt container trucks for 30', 40' and 45' containers are not easily available.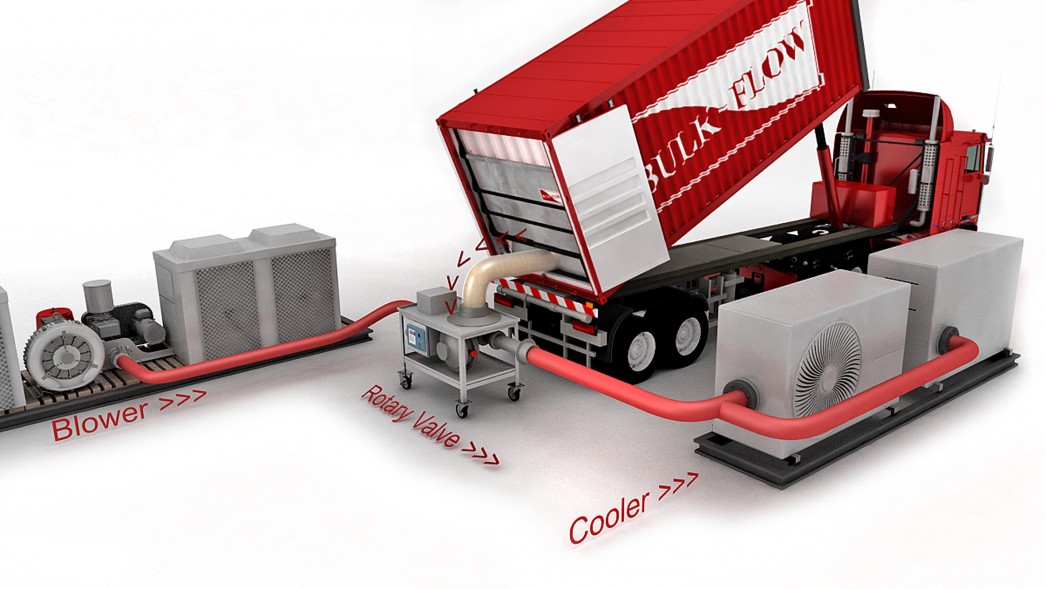 Stationary Tilting Systems are used in areas where tilting container trucks are not available.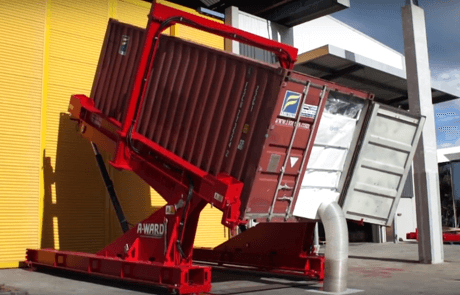 Stationary Tilting Systems make loading easier as the containers are transported to/from ports and logistics hubs by normal containers trucks.
4. Equipment Used to Unload Hard-to-Flow Cohesive Bulk Solids such as Cement, Potash, Soda Ash, Iron Oxide, Aluminum Oxide
These products will not flow by only applying gravity through tilting the container. It requires a combination: the fluidizing air liner system and vibration.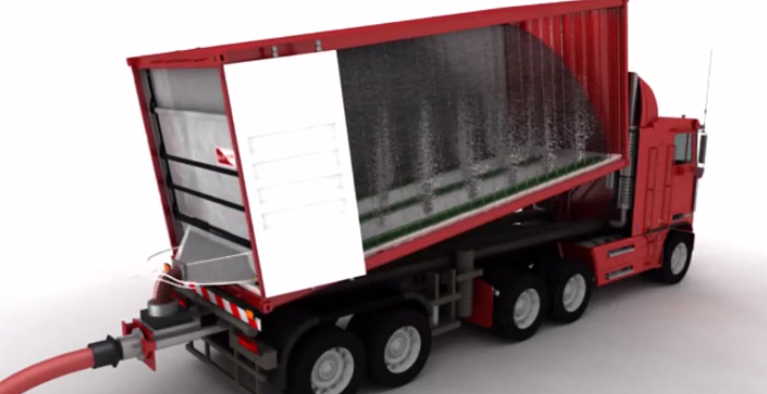 Container liner with a built-in air pressure system.
The Fluidizing Liner by itself is enough to unload many cohesive solids.
Extremely cohesive products that tend to rat hole and form bridges inside the container need vibration.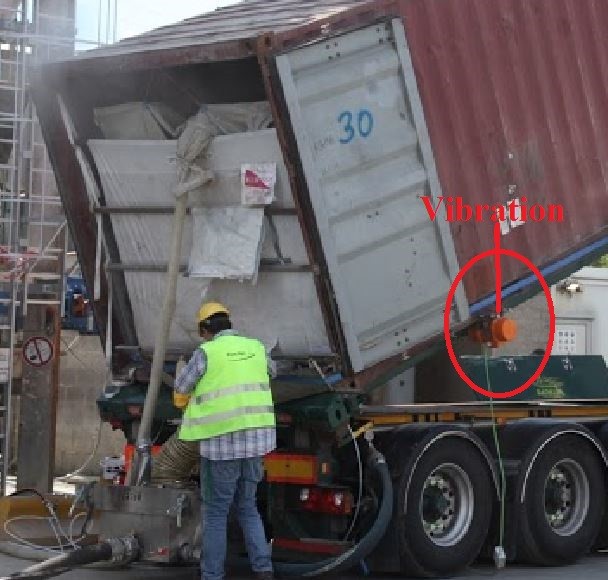 The vibration effect breaks down cohesive buildup for the fluidizing to occur and make the bulk solid flow to the unloading sleeve.
Vibrators are fastened on the container to make the fluidizing more effective and help break up the bulk solid, to flow towards the unloading sleeve.
This combination of fluidizing and vibration makes cost efficient transport in standard containers possible.